Biophilic Kitchen Design
Posted on
Biophilic design has become more popular over the past decade. It's an idea that taps into our instinct to connect with nature, encouraging an immersion in natural surroundings as a way to promote wellness in a more holistic way.
After spending so much time indoors during lockdown many of us are now trying to find ways of bringing the outside in.
We have all experienced the sense of calmness and well-being when out in nature. You're not imagining it. Scientists have found exposure to green spaces is associated with decreased health complaints, improved blood pressure and cholesterol levels, reduced stress, improved general health perceptions and a greater ability to face problems.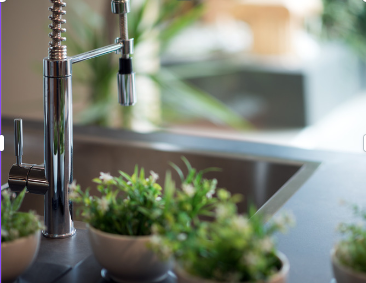 A lot of people are having kitchen extensions built that incorporate sky lights and glass sliding doors. This brings in lots of light and blurs the line between indoors and outdoors. Using stone, marble and wood helps to create the ambience of a natural environment. The kitchen, always the heart of the home, now becomes a haven of peace and tranquility.
If you are thinking of building an extension, use this opportunity to build, from the ground up, the perfect Biophilic space. Find a designer who understands the concept and explore with them, ways to incorporate it into your design.
"Study nature, love nature, stay close to nature. It will never fail you."
Frank Lloyd Wright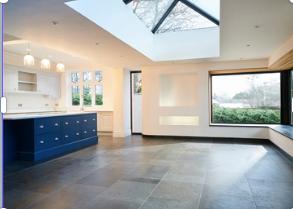 If an extension is not on the cards, an easy and impactful, way of bringing nature into your space is through the use of colour. Even if a new kitchen is not in your budget, you can paint your kitchen or even your cabinets.
The colours, many paint companies are predicting, for the next few years, are within the organic palettes of nature, such as olive greens, terracotta, sky blues and clay browns. There are thousands of variations of these colours so you can stamp your own style on your Biophilic kitchen.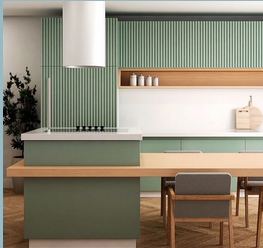 "Color is a power which directly influences the soul." Wassily Kandinsky
One of the simplest way to add biophilia to your kitchen is to add greenery. Nothing adds more beauty and comfort to our homes than the lush flowers and foliage of indoor plants.
Bringing plants into your kitchen (or any part of your home) is not only aesthetically pleasing, they bring health benefits too.
Many studies have concluded that plants can Improve your mood, reduce fatigue and lower stress and anxiety. They can boost healing and pain intolerance and minimise the occurrence of headaches by improving the air quality.They can even ease dry skin and respiratory problems by helping to reduce dry air.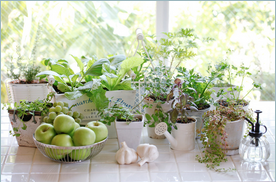 "Plants are solar powered air purifiers whose filter never needs replacing."
Khang Kijarro Nguyen
So, a few ideas for a Biophilic kitchen from a kitchen extension to adding plants and natural elements.
Hopefully this has been helpful. What do you think?
Written by Lesley Kinney @TheDecorativeLife
Classes, Custom Ornamental Onlays and Stencils - The Decorative Life