Homemade Cleaners That Actually Work!
Posted on
It should be a good thing to be doing the cleaning, right?
But, unfortunately even though you might end up with a nice clean home, many household cleaning products can be hazardous.
Store-bought cleaning products usually contain Volatile Organic Compounds (VOCs) that release harmful gasses into the air.
However, there is an alternative!
There are solutions that you can make using harmless household ingredients.
Click here to see 8 of the Best Homemade Cleaners!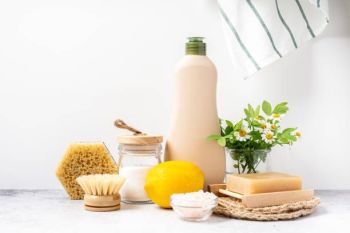 Another benefit of doing this is that you can avoid the need for single use plastic bottles which the store bought products come in.
Glass bottles storing your homemade solutions can look so stylish in your home too. Much prettier than a cupboard full of random produts!
Here's a link to some lovely 100% recyclable bottles I found.
(Affiliate link)