What Colour should I Paint my Kitchen?
Posted on
Once you've decided to have your Kitchen painted, often the first action is to obtain a colour chart and start swooning over the hundreds of colour options, and then go into panic mode! But don't worry, help is here! <BLOG_BREAK)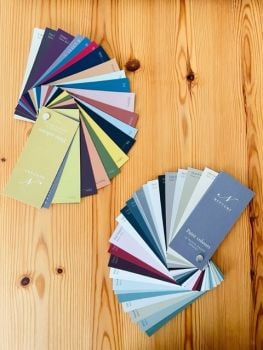 But, it can be a bit daunting and difficult to narrow down your choice given there are so many beautiful colours to choose from.
So here are some tips to consider when choosing a colour:-
1. Think about how you want the space to make you feel.
The psychology of colour is a huge topic (and maybe a blog for another day), but consider how you want to feel in your Kitchen, and whether your colour choice will make you feel like that.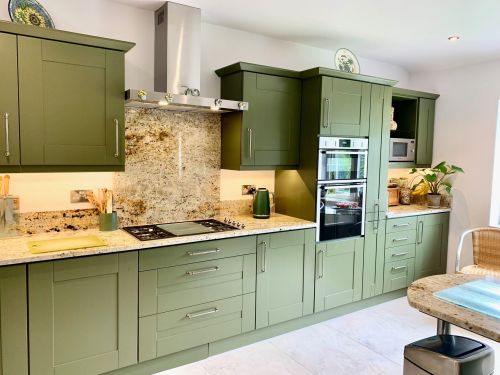 For example Yellow is considered a bright, cheery colour which envokes happy vibes, whereas Green is a restful and quiet colour.
2. Consider a two tone Kitchen.
This is a great way to add even more interest, and also great if you want to be brave and go for a dark colour but not quite sure whether you want to commit to the whole Kitchen being the bolder colour!
Make the base units darker to the wall units. Or if you have an Island, make that stand out by painting it darker.
Another good reason for opting for lighter coloured wall units is that the eye will be drawn upwards towards the lighter colour, which will create the illusion of the ceiling feeling higher and therefore a larger space.
Pic credit: Herringbone Kitchens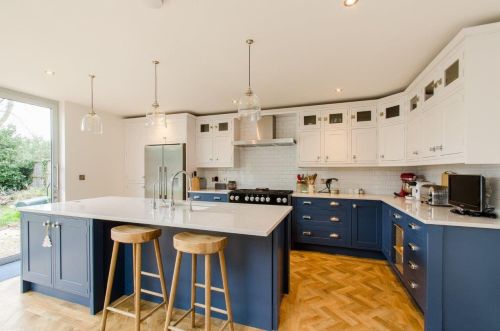 3. Create a Pinterest board
Take some time to scroll through Pinterest and start pinning all the images of Kitchens that you are drawn to. You may soon start to see a style appearing.
4. Ask your professional painter for a colour sample before committing to a colour choice.
Often the actual colour will look slightly different to the colour chart, so having a sample will enable you to visualise the colour better.
View it in various parts of your Kitchen too as it will look different in different lights.
5. Be led by your heart.
If you have always lusted after a Yellow Kitchen for example, then go for it!
My best piece of advice is to go with what colour truly makes your heart sing.
Forget following the current trends, and what is popular in the showrooms right now.
You are going to have to look at the Kitchen colour every day for the next however many years, and if you've chosen a colour just because it is popular today, it may well not be the right one for you.
Your home should be a reflection of you and your personality. Just as what you wear is an expression of your style, how we dress our homes is equally personal.
If we all lived in homes to reflect the latest IKEA catalogue for example, it would be quite a boring world, and there would be nothing within it to give us those homely vibes.