How to have an Eco Christmas!
Posted on
How to have an Eco Christmas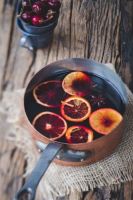 Christmas is for many of us, the favourite time of year, but it is also the time of year when we not only spend the most money as a population, but we also produce the most waste.
There are however ways we can make slight alterations to key things throughout the festive period which will make a big difference to the amount of waste we produce.
Here are 5 top tips that will make a difference...
1.

Make your own wrapping paper and gift tags. In 2017 it is estimated the UK threw away 108 million rolls of wrapping paper! Presenting gifts in handmade wrapping can make the gift even more special. Using brown recycled paper or inserting foliage is a great way to present it.

There's some great ideas here that you may like... Christmas 2021: 10 sustainable and eco-friendly wrapping ideas (stylist.co.uk)

2.

A potted Christmas Tree, which can be repotted each year as opposed to artificial trees which will end up in landfill after their approx. 10-year life span. You can watch it grow over the years and it become part of the family! If you opt for a real cut tree, consider donating / planting a new tree for each tree felled.

3.

Source local produce for your Christmas dinner. It'll be a great feeling to know that you are not only supporting local businesses, but your food has a low carbon footprint, likely to be less waste packaging and also likely to taste wonderful!

4.

Support local businesses for gifts. Seeing that the UK national average spend on Christmas is £2.5k, let's take the opportunity to support the local economy and inject that into our local businesses.

Small businesses really do do a little dance every time someone makes a purchase! Also, be aware of companies' supply chain / carbon footprint and how they produce their products.

5.

Give the gift of time. Sometimes the most precious thing you can give is your time. Consider gifts to make memories rather than buying someone a gift they don't really need.
If we all just made a few changes this year and strived towards a more eco-friendly festive period, we could make a huge difference together.
What changes do you think you might try?