Bringing the vision of your dream kitchen to life!
Many precious memories are made in your Kitchen; the family evening meals, dinner parties with friends and hosting visitors who gather for a spontaneous cuppa. Our home styling is a reflection of who we are; an extension of our style and personality.
Life's too short not to live in a home you truly love, excites you, feels cosy and safe with a sense of belonging when you arrive home after a busy day. Don't settle for somewhere that doesn't give you these feelings; you deserve more.
Are you desperate for a new kitchen but don't welcome the cost of a full replacement, nor all the hassle?
Having your existing Kitchen Cabinets profesionally painted will make your current Kitchen look like a brand new Kitchen, therefore achieving the vision of your dream Kitchen yet at a fraction of the hassle and cost!
It is also a brilliant sustainable option in terms of there being no need for your old cabinets to fill up valuable landfill space, and avoids the carbon footprint associated with a full replacement.
Maybe you are thinking about selling your home. Did you know that the kitchen is often considered to be the most important room when buyers search for a new home? If yours is looking a bit tired, refinishing the existing kitchen cabinets will add value and appeal to your home, and get you that much wanted sale!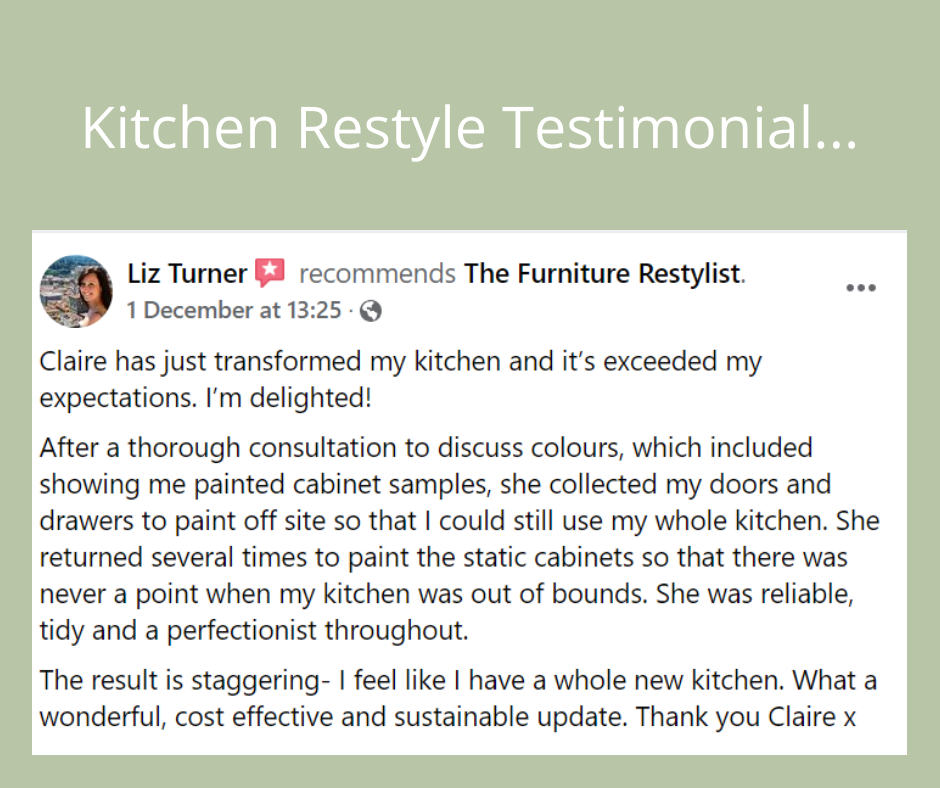 I will remove your doors and drawer fronts and refinish them in my workshop, based in Bridgwater, Somerset. Fixed fittings are painted in your home, when I will work tidily, keeping hassle and disruption to a minimum for you. You will be able to continue to use your kitchen through the process and do not need to empty your cabinets.
I take great pride in my work to ensure a professional and durable smooth finish. Each item is thoroughly degreased, sanded, cleaned and primed before being painted. Once complete, doors and drawer fronts will be refitted for you.
Please get in touch to request a no obligaton quote. I will initially provide an estimate from photos you provide, and once you confirm you wish to proceed I will provide samples of colour options for you, and help you decide on the perfect colour for your new looking kitchen.
Contact me today to discuss!
Start the process of your transformation today!